4 X F FT SUPPER FLEX DUCT W/CLAMPS
Availability:

In stock

(8)
Delivery time:
1-3 days
4 X F FT SUPPER FLEX DUCT W/CLAMPS
Ideal for use with gas and electric dryer venting applications
Provides maximum flexibility for easy installation
Material is tear, puncture, and fire resistant
This Dryer Vent Duct is ideal for both gas and electric dryer applications. This duct is UL2158A listed and marked for safe dryer venting. It is constructed of heavy duty, fire resistant, aluminum foil laminate.
Duct will not support combustion
Constructed with a high density, corrosion resistant, wire helix
Duct is air tight
Note: per UL2158A only ducts 8 ft. or less can bear the UL label
Note: per UL2158A only ducts 8 or less can be UL marked
How to Clean a Dryer Vent
TIME REQUIRED: 

Under 2 hours

DIFFICULTY: 

Beginner
---
Dirty or clogged dryer vents and ductwork don't just reduce your dryer's performance. The combination of heat and accumulated dryer lint and dust can lead to a fire hazard. In fact, clogged clothes dryer vents cause thousands of fires per year in the United States. Learn how to clean a dryer vent at least once a year to keep your home safe and ensure that laundry day runs at peak efficiency. 
Tip: Check for warning signs of clothes dryer lint buildup such as laundry taking longer to dry, the clothes dryer becoming hotter to the touch or a burning smell becoming noticeable in the laundry room.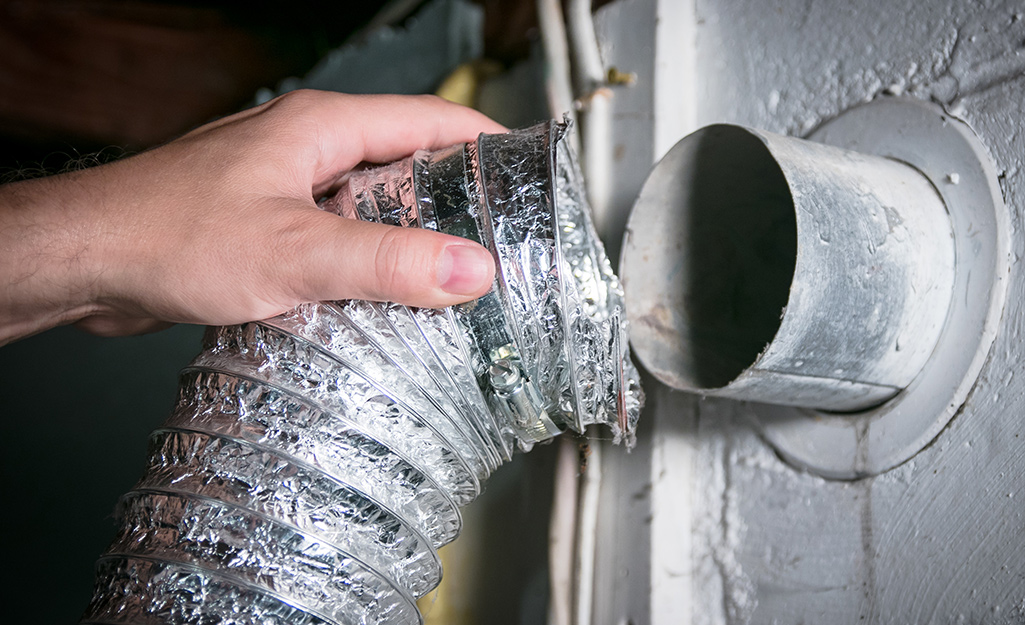 Before dryer vent cleaning, locate the vent, which should be easily found at the back of the dryer. Also locate the dryer exhaust vent at your home's exterior.
The first step on how to clean a dryer vent is to unplug the dryer. If you have a gas dryer, turn the supply valve off while cleaning. 
Pull the dryer away from the wall about a foot to begin cleaning your dryer vent.
Disconnect the dryer duct from the back of the dryer. You may need to use a screwdriver to disconnect the vent clamp. 
Tip: Some types of flexible dryer hose made of plastic, vinyl or foil are more likely to become clogged and cause fires, so replace them with ductwork that meets your local building codes.
0
stars based on
0
reviews