WT7405CW LG 5.3 Cu. Ft. White Top Load Washer With 4-Way Agitator & TurboWash3D Technology
| | |
| --- | --- |
| Availability: | Out of stock |
| Delivery time: | 2-3 weeks in clarksville location |
5.3 cu. ft. Large Capacity Smart Top Load Washer with 4-Way Agitator, NeveRust Drum, TurboWash3D in White WT7405CW 
Maximize Your Wash Motions with 4-Way Agitator
Unique 4-way wash action moves clothes left and right, up and down for a thorough yet gentle clean.
Powerful Yet Gentle Clean in 37 Minutes*
Exclusive LG TurboWash3D™ gives a complete yet gentle clean to help get through more in less time.
*Based on independent testing in normal cycle with TurboWash™ Option, 8lb. Load (January 2022).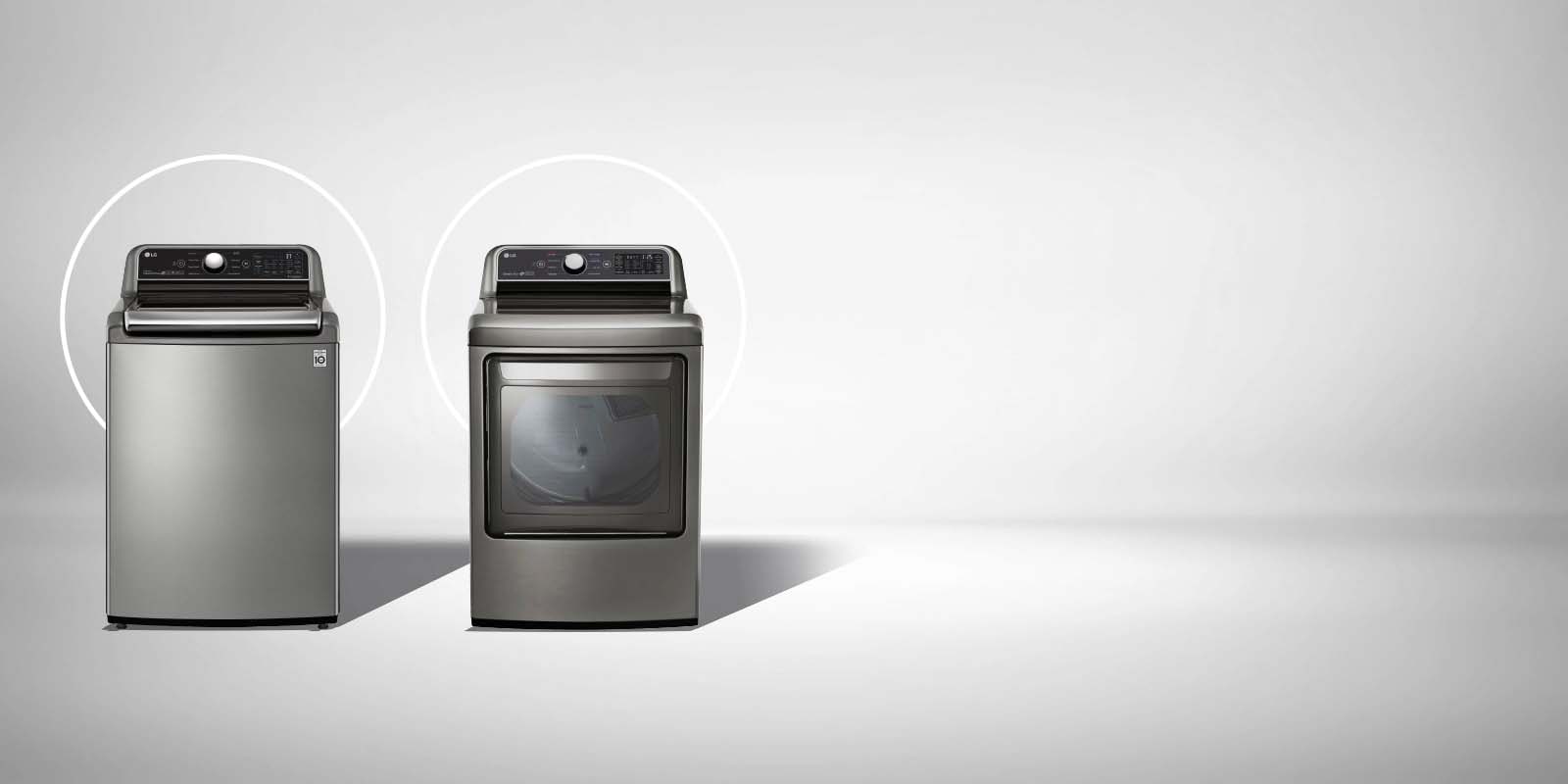 The Ultimate Laundry Hack
With Smart Pairing™, the washer can even tell the dryer to select a compatible drying cycle.
Get It All Done In Less Time
Mega Capacity (5.3 cu. ft.) means you have even more room to do laundry in fewer loads.
Deep Fill, Whenever You Choose
A deep fill option adds extra water to any cycle with the touch of a button.
Cold Wash Without Compromise
ColdWash™ technology penetrates deep into fabrics, for cold water savings & warm water performance.
Warranty / Certifications
Measure First, Order Right.
Nothing is more frustrating than an appliance that doesn't fit. We'll help you find the right one for your space.
*Based on independent testing comparing models WM3900HBA and WM4370HWA in normal cycle with TurboWash™360° option, 10 lb. load vs. TurboWash® 2.0 option, 8 lb. load (Feb. 2019).

Actual features, functionality, and other product specifications may differ and are subject to change without notice. Prices, promotions, and availability may vary by model, store, and online. Prices subject to change without notice. Quantities are limited. Check with your local retailers for their final price and availability.
Get a mega-capacity top-load washer that can handle even your toughest laundry. LG washers boast clean lines, modern finishes, intuitive controls and a range of features to help you make quick work of cleaning your clothes, bedding, towels and more:
• With five wash/rinse temperatures, five spin speeds, load-sensing technology for a water level that's just right, three soil levels and 16 additional options, like Soak, Extra Rinse and Remote Start, your LG top-load washer makes getting a custom clean easy.
• Powerful jet sprays combine with LG TurboWash3D™ - a unique washing machine agitator that gives your clothes a complete, yet gentle clean you can count on.
• Quiet Operations: From its quiet motor to its SlamProofTM lid, the LG WT7305CV is a quiet washing machine that won't disrupt your day—whether you're working from home or hosting a dinner party.
• Smart Technology: Our smart washer features the ThinQ® App, which allows you to control laundry remotely and, with its included Proactive Customer Care, it will send you maintenance tips and alerts so you can keep your washer in tip-top condition. Not only that, but with Smart PairingTM, when you buy a compatible smart dryer, the washer can tell the dryer to select a compatible drying cycle—making it even easier to complete a load. It's the ultimate laundry hack.
Our top-load washer features innovative technology that gives you more cleaning options for even your largest loads. Best of all, with its sleek, streamlined design, it's easier than ever to create a laundry room that's as stylish as it is efficient. For even more laundry solutions, explore all of our LG washers and dryers.
Design, features and specifications subject to change without notice. Screen images simulated and/or dramatized. Some features in videos may not be available on all models. Please refer to the TECHNICAL SPECIFICATIONS tab for a complete list of features by model.
LG took everything you love about the traditional top load agitator washer and kicked it up a notch, with fast, more thorough cleaning and smart conveniences that save time and simplify laundry day. The agitator's 4-way wash action combines with exclusive LG TurboWash3D technology to give clothes a complete clean in 37 minutes. Plus, with the ThinQ app and ThinQ Care, you can start and stop the washer or check remaining cycle time from anywhere-and get preventative maintenance tips and alerts to keep your washer running at its best. With Smart Pairing, the washer can even tell the dryer to select a compatible drying cycle, making it the ultimate laundry hack. Who says you can't improve on a classic.
Say never again to never-ending piles of laundry-this mega capacity washer fits more clothes in every load and helps you power through laundry day in less time, with 5.3 cu. ft. capacity, you can fit a king-size comforter and more in a single load, for big time savings every week, get the room and flexibility to clean in fewer loads
Specially designed fins create a unique 4-way wash action that moves clothes left and right, up and down for a thorough clean that's still kind to clothes
TurboWash3D gives clothes a complete cleaning and the gentle care they deserve-with turbo speed that helps you get through more laundry in less time, a powerful jet spray in the wash cycle, plus the tub and motor that rotate independently and in opposite directions, creates a powerful water flow that combines with the 4-Way agitator for enhanced washing performance
Based on the cycle you select, LG 6Motion technology uses up to 6 different wash motions, each designed to get clothes cleaner and help them last longer, options range from a scrubbing PowerMotion that helps to dissolve stains to the gentle Swinging motion that's ideal for delicates
Use the ThinQ app to start the laundry while you're out shopping, check remaining cycle time or get notifications on your smartphone, go hands-free-select washer features work with Alexa and the Google Assistant
ThinQ Care offers preventative maintenance tips and alerts and expedited repairs, for enhanced satisfaction plus improved product performance, with Smart Pairing, the washer can even tell the dryer to select a compatible drying cycle, making it the ultimate laundry hack
LG top load washers use precise wash motions to ensure clothes move efficiently through the detergent and water mix and come out ultra-clean, all while saving energy and money, but if you decide you want to add extra water to the occasional load, LG gives you the option to get your (deep) fill
Press Deep Fill at the start of any cycle to select the maximum water level, cycle already started? Just hit Pause, Deep Fill and then Start, another plus-the one-time setting will automatically switch back to high-efficiency water levels the next time you're ready to wash.
Saving energy doesn't have to mean compromising on cleaning with the coldwash option, powered by the LG direct drive motor and 6Motion technology, it's ideal for cleaning all types of clothes-even those you normally wash in warm water, can be used with almost any wash cycle and virtually all fabric types
Unlike tubs made from porcelain or plastic, the LG neverust stainless steel Tub avoids the chips and nicks that can snag fabrics and ruin clothing, durable surface actually gets smoother over time and keeps your washer looking like new, even after years of use
Backed by a 10-year limited warranty, the LG direct drive motor delivers peace of mind with every load, fewer moving parts means less noise and vibration, greater stability and durable performance you can depend on for years to come
This LG high efficiency washer uses far less water and energy than a conventional washer for savings that add up with each load, get additional savings with load-sensing technology that adjusts water levels and wash times or by adding the ColdWash option to almost any cycle
Enjoy the convenience of a clear lid that allows you to watch your washer in action, uninterrupted, and the convenient SlamProof Lid automatically closes and firmly holds itself at certain angles, thanks to our smooth-operating hydraulic hinge
Run the washer whenever you want- LG 's TrueBalance Anti-Vibration and LoDecibel systems are designed for quiet operation that keeps even big loads in balance to reduce washer noise and vibration, a must-have for main-floor or second-floor laundry rooms
With the LG TubClean system, you don't have to worry about mold, mildew or musty odors, simply select the TubClean cycle, add liquid bleach or other cleaner and let the washer do the work to thoroughly clean and dry the tub, door and gaskets, run it every month or so to keep your washer-and your laundry-clean and fresh
Let's face it, Sometimes, you just don't have time to wait for a standard wash cycle, when you're in a rush, LG's SpeedWash cycle gets small lightly soiled loads refreshed in just 15 minutes
0
stars based on
0
reviews