DVE46BG6500V Samsung 7.5-cu ft Stackable Steam Cycle Smart Electric Dryer (Brushed Black) ENERGY STAR
Article number:
210000005124
Availability:

In stock

(1)
Delivery time:
1-3 days
DVE46BG6500V Samsung 7.5-cu ft Stackable Steam Cycle Smart Electric Dryer (Brushed Black) ENERGY STAR
Dry a full load in 30 minutes with SuperSpeed Dry.

Samsung's easy to use, AI Smart Dial simplifies your washer's control panel and makes laundry day a breeze.

Removes 95% of pollen from fabric,relaxes light wrinkles, and refreshes clothing.
Dry in 30 minutes
Super Speed
Get clothes clean and ready to wear in just 1 hour. The Super Speed course can dry a load of synthetics in 30 minutes* and continually optimizes the temperature. And with a Super Speed washing machine you can wash clothes in 28 minutes**. So garments can be washed and thoroughly dried in 1 hour.
* Tested on the Samsung DV6500B with a DOE (Cotton 50% + Polyester 50%) 8lb load. RMC (Remaining Moisture Content) under 48%, 24℃±2℃, RH (Relative Humidity) 50% ±10%.
** Tested on the Samsung WF6500B Super Speed cycle with a DOE (Cotton 50% + Polyester 50%) 8lb load.
Hygienic laundry care
Steam Sanitize+
Make sure that clothes and other items, like linen and soft toys, are always hygienic. The Steam Sanitize+ cycle infuses high temperature heat deep into the fabric of wet items* and injects steam during the drying cycle. It provides Hygiene care for your laundry and removes 95% of pollen**.
* 6kg wet laundry made of IEC standard fabric with less than 60% moisture content.
** Testing based on Samsung internal protocols. Results provided to and interpreted by Intertek. Individual results may vary.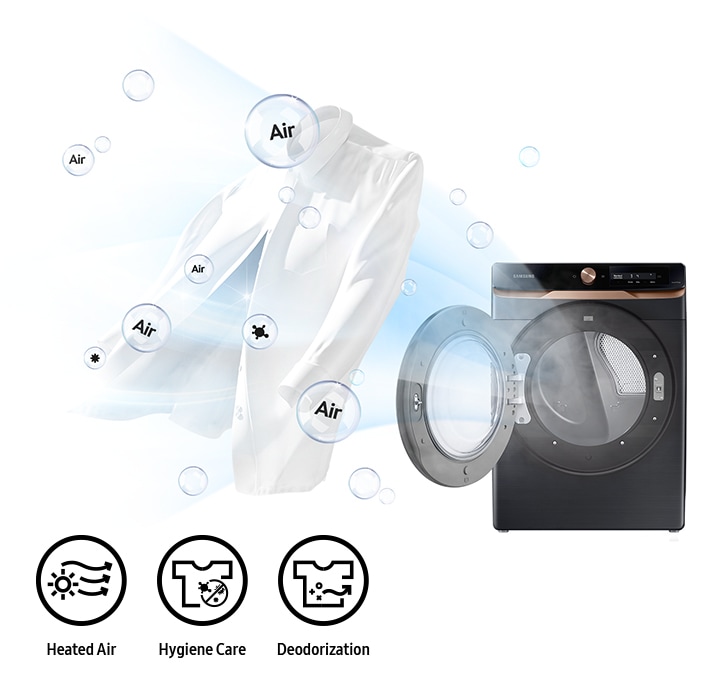 Certified efficiency
ENERGY STAR® Certified
Spend less on drying clothes and help to protect the planet. The clothes dryer is ENERGY STAR® certified. So you can save money by using less energy without sacrificing performance or functionality. This reduces the impact on the environment caused by the consumption of natural resources.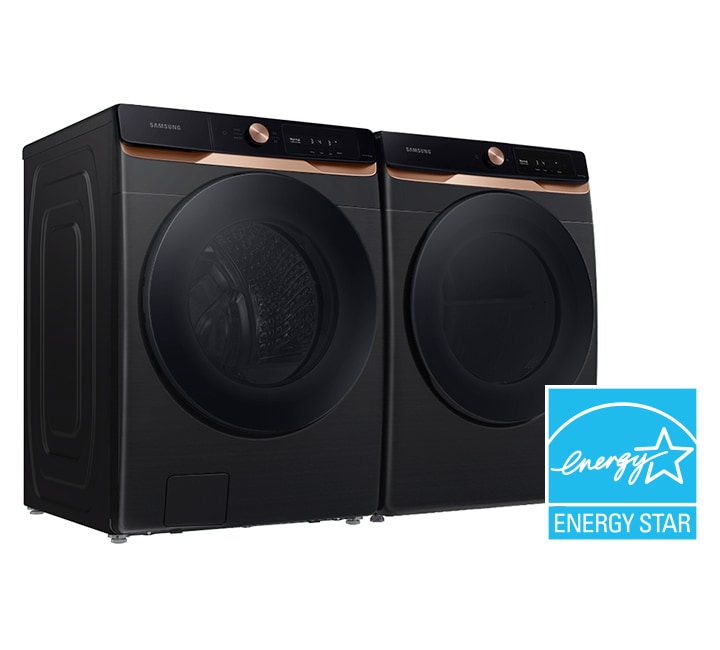 Fit in flexibly
Flexible Installation
Make the best use of the space in your home. Your washing machine and clothes dryer can be stacked vertically or placed side by side horizontally to suit the layout of your home and your lifestyle or to free-up floor space. The dryer is designed to be stackable* and will stay securely in place.
* The MultiControl™ & Stacking Kit is sold separately as an accessory.
Less odor & wrinkles
Multi Steam
Refresh and smooth out clothes quickly without doing a full wash or dry cleaning items. The Multi Steam function infuses your laundry with steam to freshen garments and keep them smelling great. It reduces odors and static, and also smooths out wrinkles in clothes*, so they need less ironing.
* Based on up to 4 shirts.
Properly dry clothes
Sensor Dry
Make sure your clothes are properly dried without having to constantly check them. Sensor Dry automatically optimizes the drying cycle time and temperature. So clothes are always evenly dry. Moisture sensors prevent heat damage to the laundry and excessive energy use.
Large Capacity (7.5 cu. ft.)
Dry many more laundry items at once – saving time and effort. It has a large capacity of 7.5 cubic feet, so you can fit lots of clothes into a single load, including big items like a king-sized comforter. It means you need to dry fewer loads and can enjoy more time for yourself.
Vent Sensor
Get notified if you need to clear a blocked vent, so you can maintain the optimum drying performance. A Vent Sensor continually monitors the condition of the air duct and detects any buildup of lint. It automatically notifies you when it needs a clean or prompts you to check for obstructions.
Lint Filter Alert
Stop worrying that lint and fluff will block the dryer's air intake and hinder its performance. When you turn on the dryer, the LCD display shows the Lint Filter Alert to remind you to check if it needs cleaning. So you can remove any lint in the air duct and enjoy a consistent performance.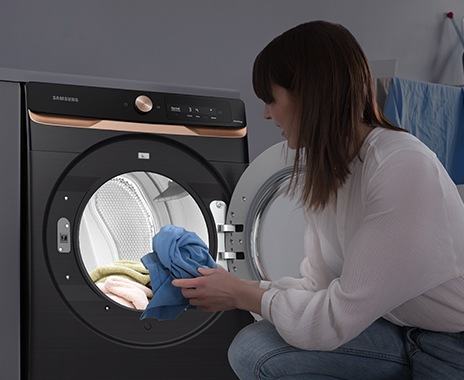 Drum Light
Empty your dryer much more easily – and never misplace another sock! The internal Drum Light brightly illuminates your laundry and the rest of the drum. So you can quickly check the contents and make sure that you get everything out. Now you won't overlook even the smallest item in the dark.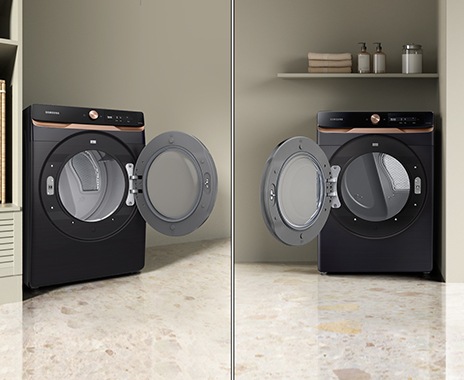 Reversible Door
Choose the direction the door opens to suit your laundry room layout and ensure maximum convenience. You can change which side the reversible door opens, so it fits the location, what is around it and how you do things. And walls won't get in the way, so you can install a dryer almost anywhere!
Branded In-home Repair Service
More choice and flexibility service repair options.
Samsung Certified Technicians will set up a service time around your available schedule. Our skilled, experienced, and trained technicians will examine and repair your appliance in the comfort and safety of your home. Samsung's Branded Technicians will arrive at your home with the appropriate PPE equipment, respectfully disinfecting your appliance before and after repairs and ultimately providing you with excellent customer service.

Learn more

To schedule a Branded In-home Repair, contact us via Chat, text WECARE (932 273), or call 1-800-SAMSUNG, to schedule an appointment.
* Samsung Branded In-home service is currently available in Montreal, Toronto, Cambridge, London, Windsor, and Vancouver with plans to expand into Edmonton, Calgary, Ottawa, and Winnipeg later in 2022.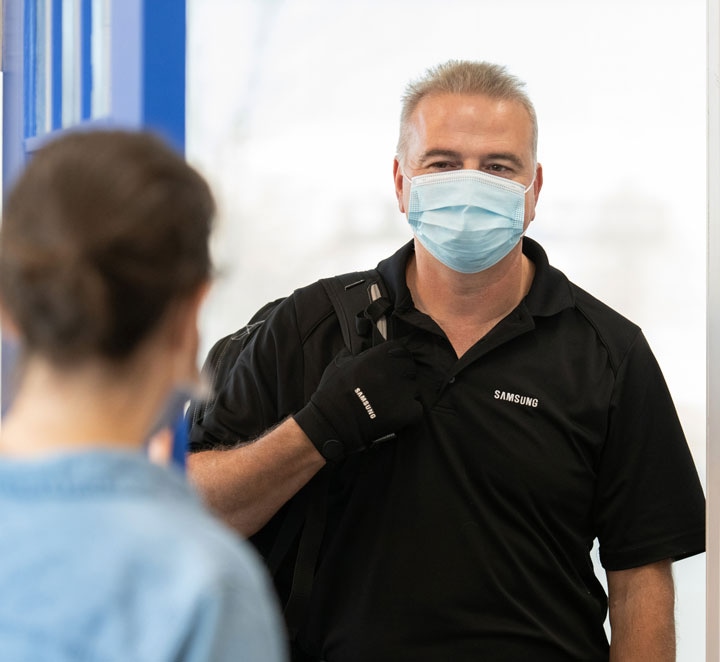 ENERGY STAR® Certified
0
stars based on
0
reviews