JED3536GB JennAir - JX3 Euro-Style 36" Built-In Electric Cooktop - Black
Article number:
210000005116
Availability:

In stock

(1)
Delivery time:
1-3 days
•JED3536GB JennAir - JX3 Euro-Style 36" Built-In Electric Cooktop - Black 
This Jenn-Air® luxury electric radiant downdraft cooktop offers a sleek cooking surface with five radiant elements, which offer responsive performance. It also features the impressive JX3™ downdraft ventilation system, which quickly and efficiently clears the air without a hood.
JX3™ Downdraft Ventilation System with 3 Speeds
12"/9"/6" Triple-Choice™ Element
Color-Coordinating Die-Cast Metal Knobs
DuraFinish® Glass Protection
ADDITIONAL FEATURES
LUSTRE BRUSHED METAL DESIGN
Blur the lines of temptation with tight corners of lustrous brushed metal that will leave you reeling. The tight seams and joints seamlessly frame a black glass surface.
CONVERTIBLE TO DUCT-FREE VENTILATION
Downdraft cooktops are manufactured to be used with ductwork, but this option enables conversion of the JX3™ downdraft cooktop to be used with a duct-free system.
TRADITIONAL INSTALLATION
Sleek and with a beveled edge, this JennAir® cooktop installs and sits higher than 3mm on any level countertop, including an island or peninsula.
SEMI-FLUSH INSTALLATION
Subtlety that dares to be ignored. Standing semi-flush at 3mm above the countertop, this precision edge is minimalism magnified.
10-INCH, 3,200-WATT ELEMENT
A large element that heats the entire element surface at both high and low temperatures while providing precise control by cycling power to one or both of the nested elements to support a range of high-temperature cooking techniques.
310 CFM BLOWER CAPACITY
A single centrifugal blower motor combines with a perimetric design, allowing this ventilation system to operate at just 310 CFM while still meeting the demand of high-output burners or elements.
6-INCH, 1,200-WATT ELEMENT
A fast-heating element sealed underneath a ceramic glass cooking surface that offers up to 1,200 watts of power.
6-INCH, 1,300-WATT ELEMENT
A fast-heating element sealed underneath a ceramic glass cooking surface that offers a range of power from 300-1,300 watts.
DISHWASHER-SAFE AIR GRILL
An intake grill, able to be cleaned in a dishwasher, that captures smoke, grease and cooking odors entering a downdraft ventilation system.
EASY-TO-CLEAN SHORT PLENUM
Hidden beneath the air grill, the plenum is the ventilation chamber through which air is drawn. On the JX3™ downdraft cooktop, the unique plenum design is short, making it easy to clean.
HOT SURFACE INDICATORS
Light(s) positioned at the controls instantly show which element is still hot – even if the element has been turned off.
RADIANT ELEMENTS
Fast-heating ribbon elements sealed underneath a ceramic glass cooking surface.
BADASSES AT THE READY
Our crew relentlessly engages with JennAir® appliances day in, day out. Initiated in rigorous product, process and culinary training, this team answers to you—from sales to installation to ownership.
SERVICED BY A SELECT FEW
We narrowed down our dedicated network to only the most experienced providers. Armed with extensive access to products and knowledge, their expertise is unmatched.
DUCT-FREE FILTER
Filter included with the duct-free kit that captures smoke, grease and moisture, and allows air to travel through the filter without a loss of air efficiency. The filter also has a replacement indicator.
DUCT-FREE FILTER KIT
The JennAir® duct-free filter kit allows the Jenn-Air® downdraft system to be installed in virtually any home, even a high-rise or condo, without requiring a major remodel to accommodate ducting.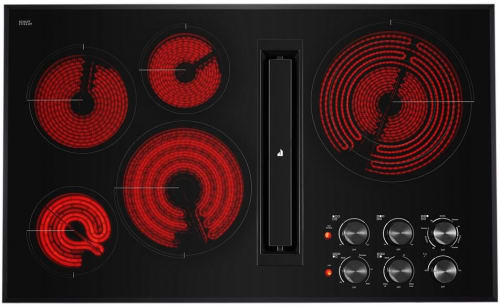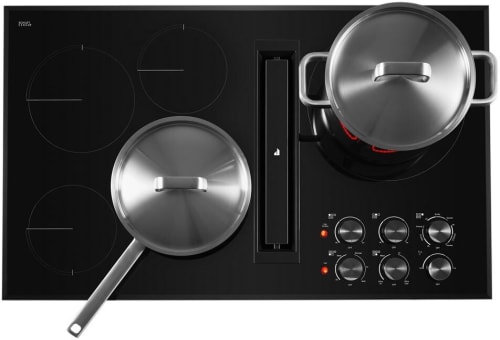 0
stars based on
0
reviews