Samsung 24 in. Front Control Dishwasher in Stainless Steel with Stainless Interior Door and 3rd Rack, 51 dBA
Article number:
210000000644
Availability:

In stock

(1)
Delivery time:
1-3 days
24 in. Front Control Dishwasher in Stainless Steel with 3rd Rack, 51 dBA
Add more usable space to your dishwasher with the 3rd rack
Easily select functions with digital touch controls
Height adjustable upper rack to fit dishwear of various sizes
Easily load cutlery & optimize space
3rd Rack
A 3rd Rack provides a dedicated space at the top for small and light items, such as cutlery and utensils. It also frees up more space in the rest of the dishwasher for other items.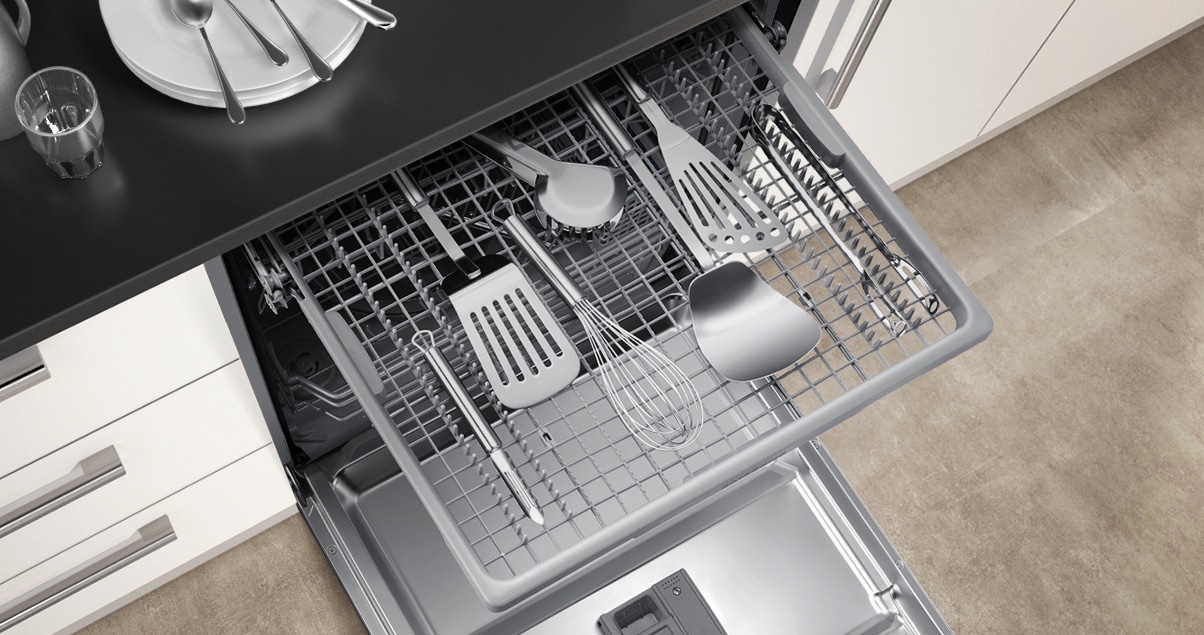 Easily check and control with one touch
Touch Control
Take control with one touch using a fully integrated Touch Control panel with soft touch technology. Located on top of the door, you can easily select functions with a gentle touch and intuitively check the status of each cycle. It also creates a modern kitchen style with a clean, minimalist look.
Durable, stain resistant Hybrid Tub
Hybrid Tub
Keep your dishwasher looking like new. The hybrid tub featuring a stainless steel door interior is durable, quiet and clean.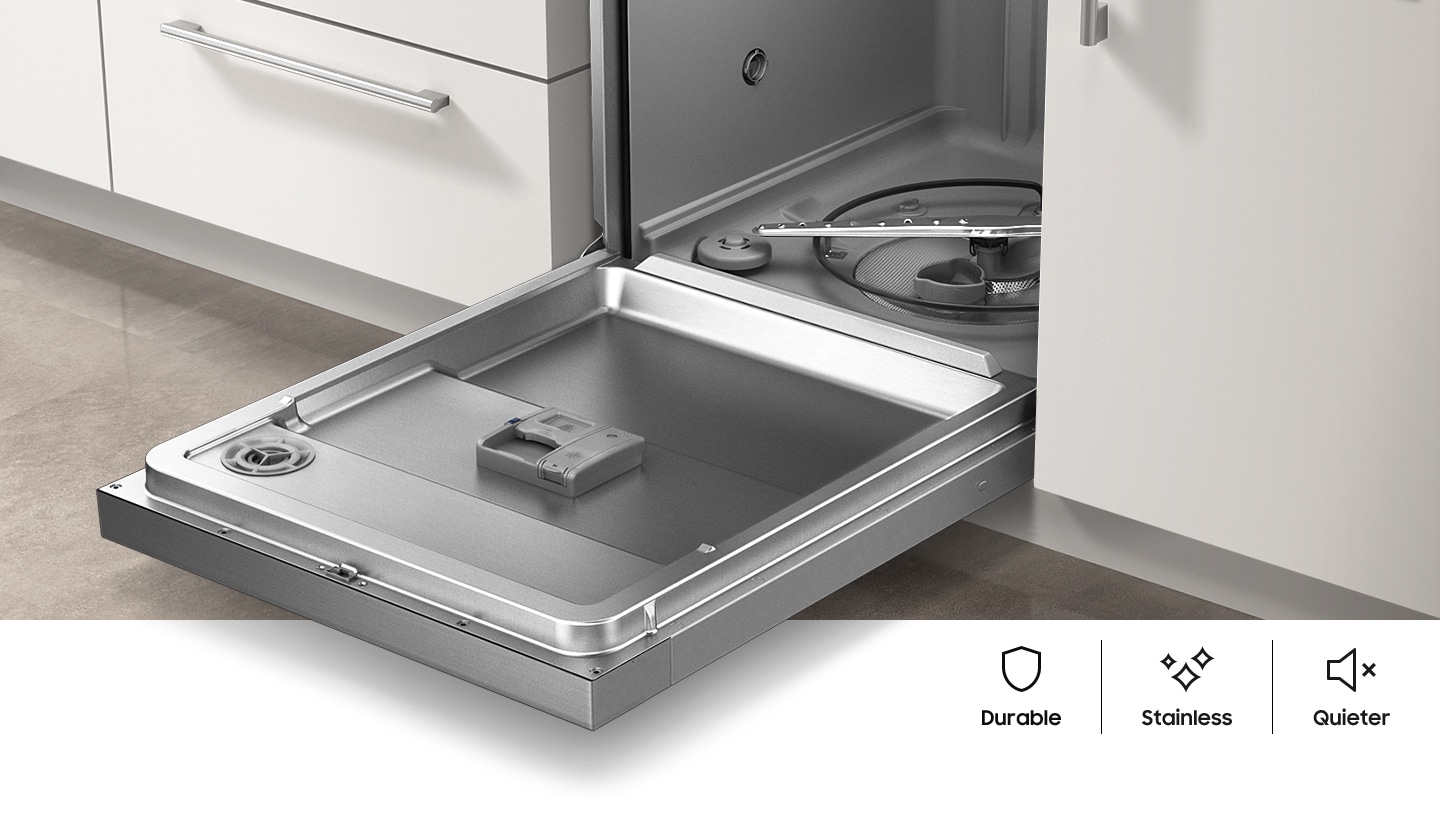 Rapid water leak detection & protection
Leakage Sensor
Leakage Sensor is located below the dishwasher so it detects small traces of water. If any leaks are found, it stops the cycle, drains the water and shows an error message.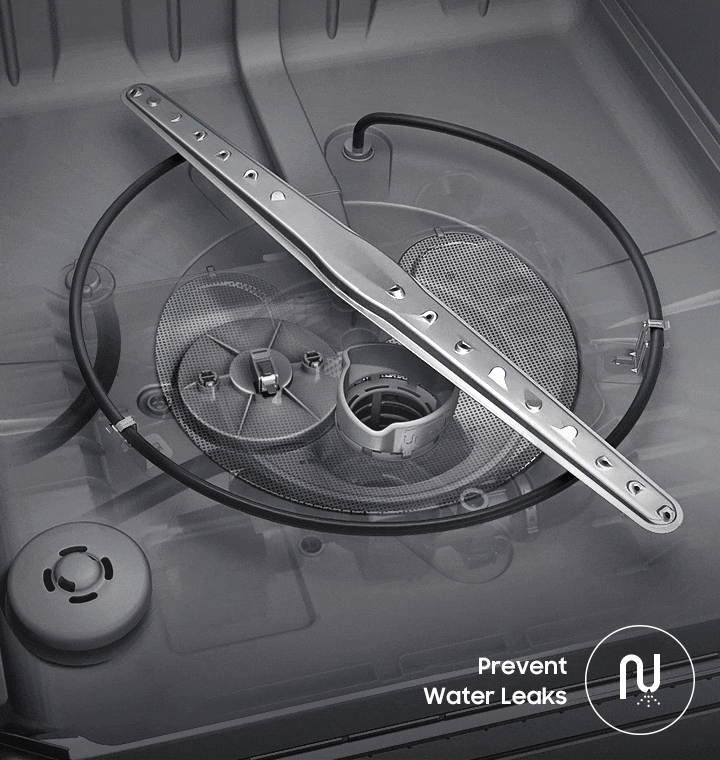 Easily fit in taller and wider dishes
Height Adjustment
The Height Adjustment feature allows the upper rack to be moved up or down by an extra 2 inches to create more space in the lower rack. So cleaning tall pots, wide platters and oversized plates is no longer a problem.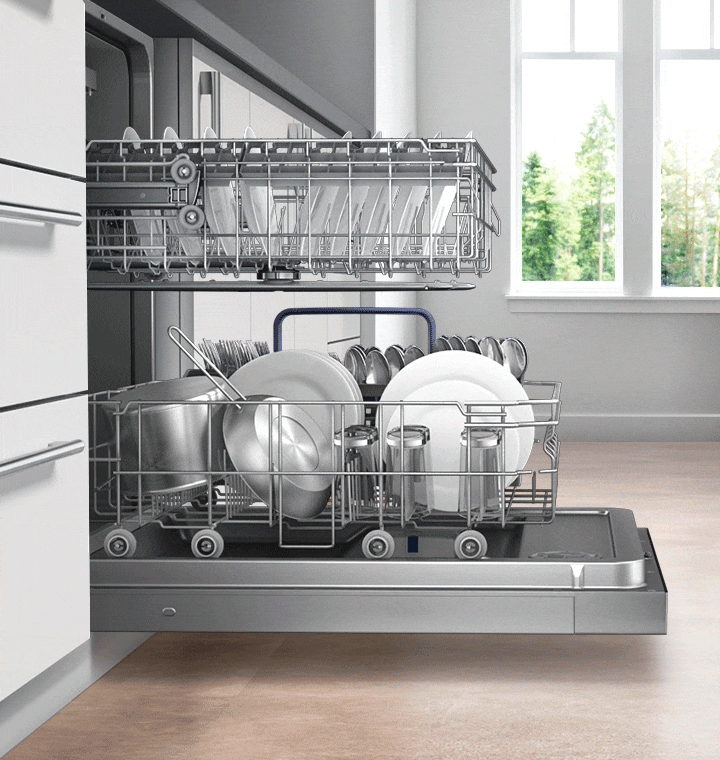 Cleaner dishes – automatically
Auto Cycle
The Auto Cycle feature ensures that your dishes are cleaned efficiently. It detects how dirty they are and then automatically selects the optimal cleaning cycle.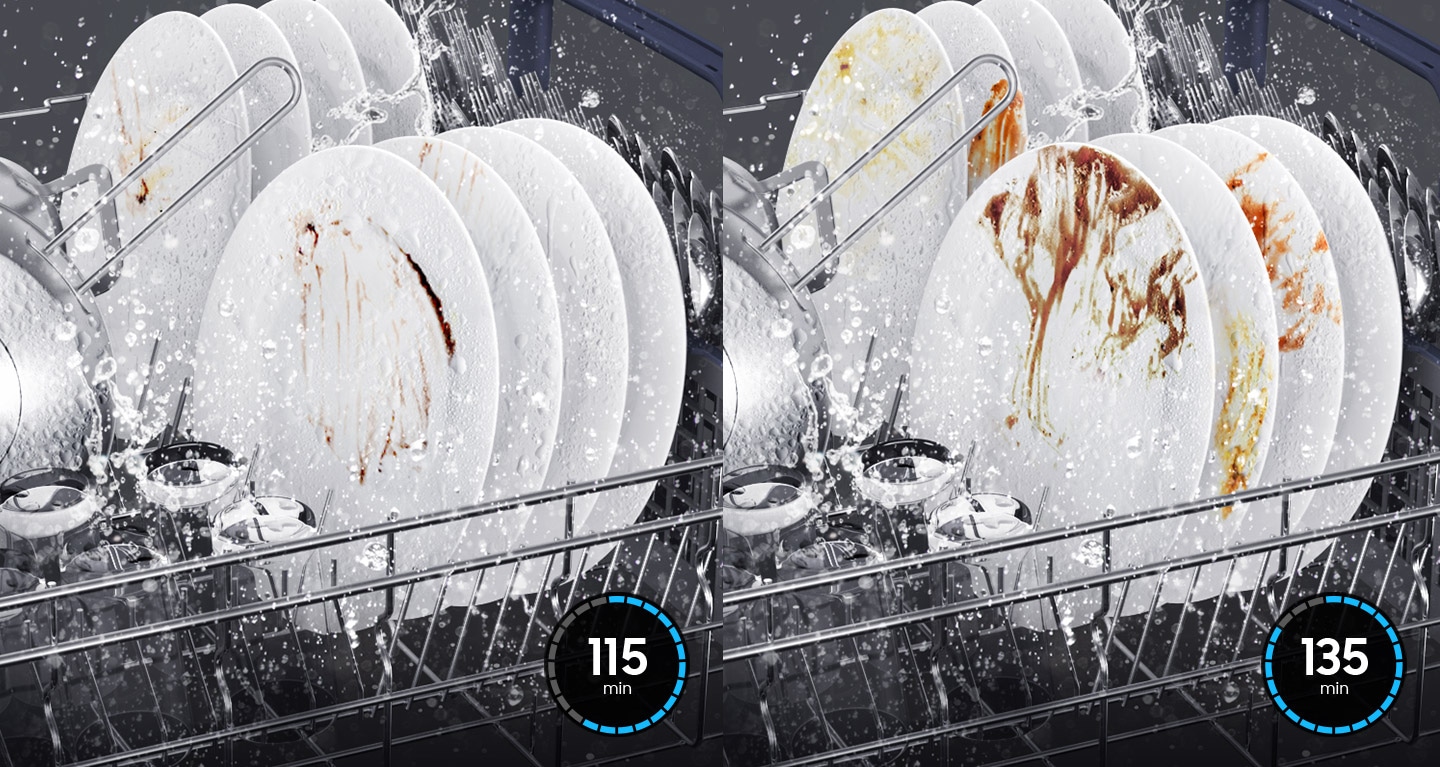 Less noise. Less disturbance at home.
Quiet operation
The Hybrid Tub, with a stainless steel inner door, is designed to create less noise. It absorbs much of the sound and vibration when it's working, so it operates quietly. At 51 decibels it is quieter than a normal conversation.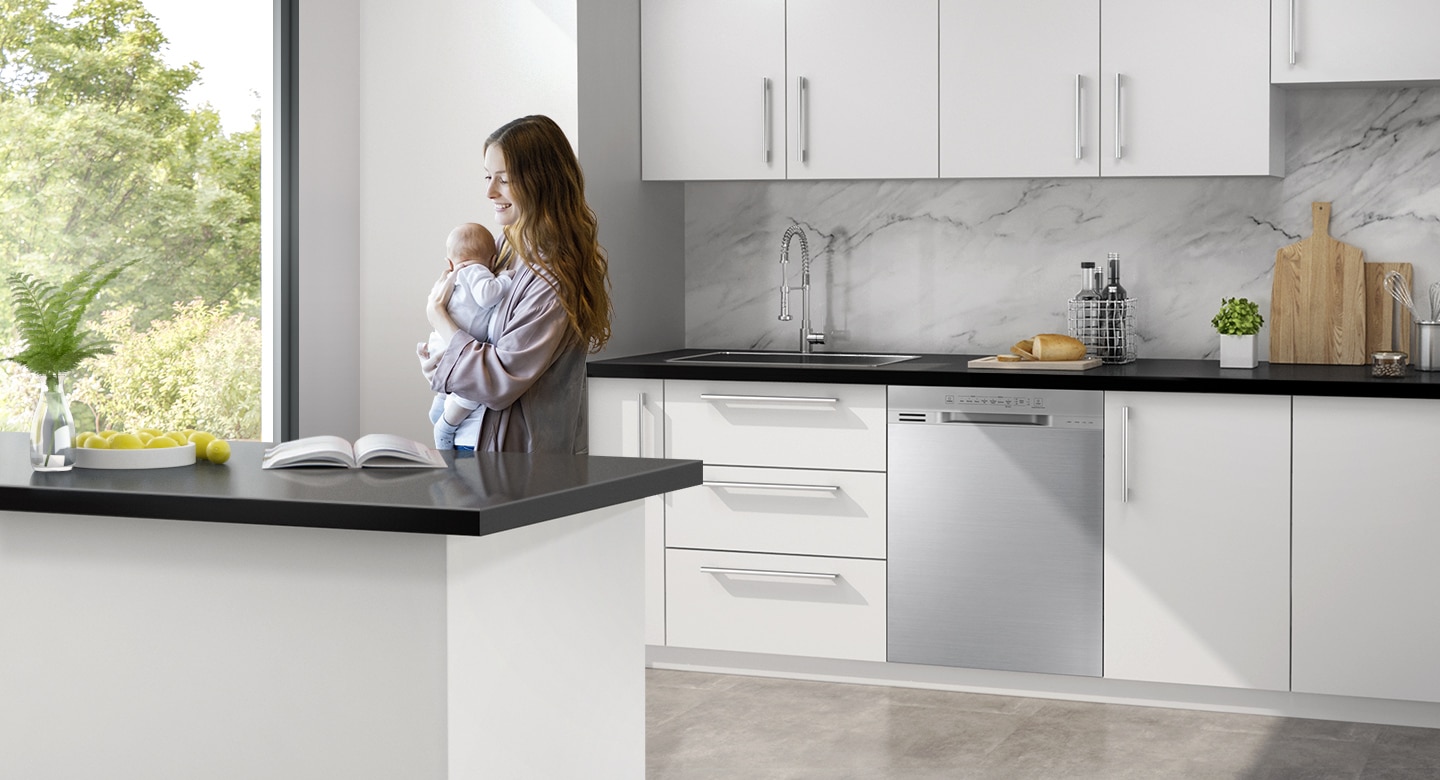 Certified energy & water efficiency
ENERGY STAR
Become more environmentally friendly, while also spending less. The dishwasher is ENERGY STAR® certified. So you save money using less energy and water with each cycle without sacrificing performance or functionality. Its exceptional energy efficiency also reduces the impact on the environment.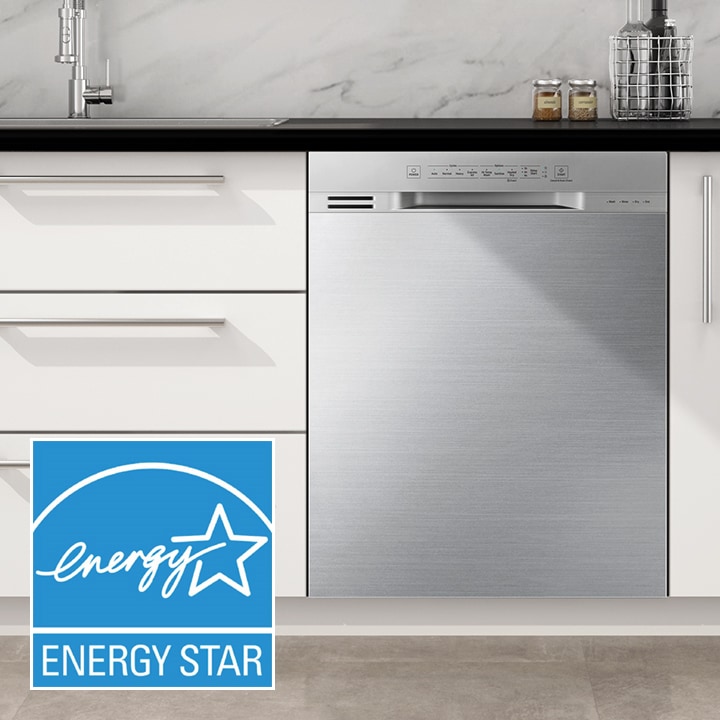 0
stars based on
0
reviews