Financing
Acima Finance
Acima Credit offers point-of-sale financing with instant approval. Applications for its lease-to-own financing are made online or in-store through participating merchants. Acima is most commonly used for cars, furniture and appliances.
Acima offers a lease model where you can own the merchandise at the end of 12, 18 or 24 months. Customers can request one of two early-purchase options to lower costs: Repay within 90 days: You pay the price of the item, plus a $10 payment processing fee and a $40 rental agreement fee. More than a third of Acima's customers use this option, according to the company. Repay after 90 days, but before 12 months: You pay an amount that's less than the remaining payments owed. You can save 25% or more on outstanding payments, depending on the payoff date and your state's lease laws, according to Acima. You can set up either early-purchase option through Acima's online customer portal or by contacting Acima's customer service department. Lease example: You purchase furniture that costs $1,000 and sign a lease agreeing to pay $2,000 over 12 months. If you pay off the lease in the sixth month, the total cost would be approximately $1,500, according to the company. Returns: You are responsible for making payments during the time you have the leased item, but you can return it at anytime without penalty, according to Acima.
Click here to visit Acima Financing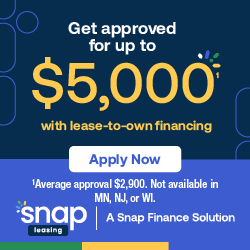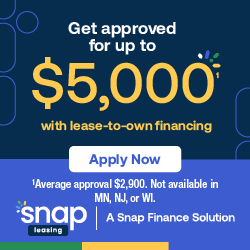 Snap Finance
Snap Finance helps you close sales and generate more business by working with customers who don't qualify for traditional financing. So, it's important to get the word out that you're a preferred Snap Merchant Partner. One of the best places to indicate that you offer Snap Finance options is on your website. To help, we've created a library of website banners as a resource for you. Designed in a variety of sizes and layouts with a range of messaging options, we've made it easy to let people know that Snap is available in your store.
Click here to visit Snap Financing